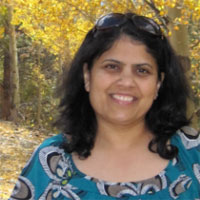 yoga class
Ketna's yoga journey started about 15 years ago when she found out that yoga helped her manage the stress of being a mom, a wife, and a working woman. About 10 years ago she left her career as an accountant and a financial controller and decided to dedicate all her energy to yoga. Soon she took a yoga-teacher training class and got her RYT (Registered Yoga Teacher) certification and commenced teaching in yoga-studios, gyms, and health centers. After a year of this, she went to India and did a three-month long intensive training program with A. G. Mohan and Indra Mohan. This was the breakthrough she was looking for and it completely transformed her practice and approach.
A. G. Mohan and Indra Mohan are the direct disciples of T. Krishnamacharya, the father of modern yoga. Ketna has since visited the Mohans multiple times and has learned Yoga Sutras, Yoga Therapy, Ayurveda, and much more from them. Ketna considers herself blessed in having the Mohans as her gurus. In turn they have never hesitated in giving her the help and encouragement she needs. In addition to her studies with the Mohans, she has been instructed in Ayurvedic nutrition in India and is now certified as an Ayurvedic nutritionist.
Ketna holds the certificates of RYT 500 and E-RYT 500 and is a member of the International Association of Yoga Therapists. She teaches the classical form of yoga and specializes in gentle restorative yoga. She has now become a resource for yoga teachers in the Colorado area who seek her advice. Ketna also frequently conducts seminars and workshops on various topics related to yoga.
Ketna's schedule:
One Yoga: Tuesday & Thursday 11.45 am
Colorado Therapy Center, Littleton: Monday Noon (Yoga Therapy one-on-one)
Yoga Trigo: Thursday 7.15 pm
Ketna also conducts one-on-one yoga sessions to provide personalized practice and recommendations, yoga therapy sessions, corporate lunchtime yoga, and invitation only workshops and classes. Please use the contact form for more information.