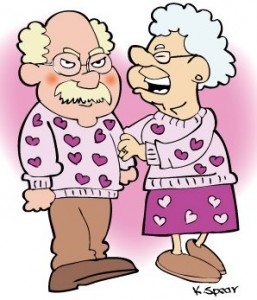 After Mr. Harris retired, his wife insisted that he accompany her on her trips to Wal-Mart. Unfortunately, like most men, he found shopping really boring. Equally unfortunate, Mrs. Harris like most women – loves to browse & left Mr. Harris with endless time to fill.
Yesterday she got the following letter from the local Wal-Mart:
Dear Mrs. Harris:
Over the past six months, your husband has caused quite a commotion, in our store. We cannot tolerate this behavior and have been forced to, ban both of you from the store. Our complaints against your husband, Mr. Harris, are listed below and are documented by our video surveillance cameras:
1. June 15: He took 24 boxes of condoms and randomly put them in other people's carts when they weren't looking.
2. July 2: Set all the alarm clocks in Housewares to go off at 5-minute intervals.
3. July 7: He made a trail of tomato juice on the floor leading to the women's restroom.
4. July 19: Walked up to an employee and told her in an official voice, 'Code 3 in House wares. Get on it right away'. This caused the employee to leave her assigned station and receive a reprimand from her Supervisor that in turn resulted with a union grievance, causing management to lose time; and costing the company money. We don't have a Code 3.
Continue reading →