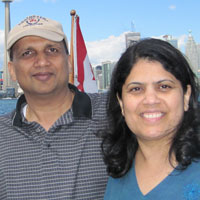 about MyLifeYoga
This web site is the creation of Ketna and Raj Shah. Ketna is a yoga teacher, a yoga therapist, and a gourmet cook. Raj works for a fortune 500 firm in the IT department. Although Raj and Ketna met 25 years ago when their families arranged their marriage, their journey into yoga has considerably deepened and enriched their marriage. They have one daughter who is just graduating from college.
Although the gift of yoga is available to all of us, yet Raj and Ketna did not take to yoga in the early part of their lives. Having struggled to find yoga and understand its deeper aspects, they have resolved to make this process easier for others by creating this web site.
As we progress on our journey into yoga, the deeper meaning of yoga slowly unfolds. This web site seeks to explore all facets of our journey into yoga. While the journey is deeply personal, we can nevertheless hold each other's hand as we march together down this path. This web site seeks to be the space where you can meet fellow travelers.
As we delve deeper into yoga, we find that yoga is about the underlying unity of everything. We find that sharing, loving, and connecting deepens and enriches our journey. Hence this web site seeks to foster a community. We invite you to share any stories relating your experiences with yoga and even the gift of laughter with a joke or anecdote. Every time we share, a new thread is stitched in another person's tapestry and our journey into yoga deepens. This is MyLifeYoga.
Important links:
MyLifeYoga Facebook page: http://www.facebook.com/MyLifeYoga
MyLifeYoga Youtube channel: http://www.youtube.com/user/mylifeyoga
MyLifeYoga on Twitter: http://twitter.com/#!/MyLifeYoga