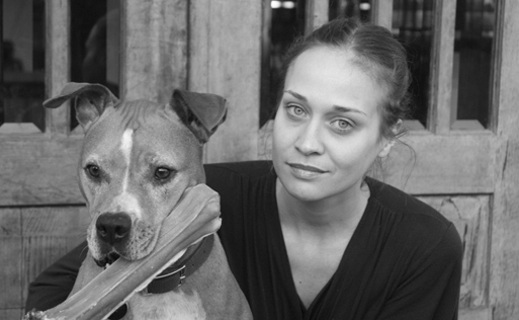 In a moving, handwritten letter addressed to her fans, Fiona Apple announced, in November of 2012, that she was postponing the South American leg of her tour due to the ill-health of her beloved pit bull, Janet, a 13-year-old rescue dog suffering from Addison's disease:
It's 6pm on Friday, and I'm writing to a few thousand friends I have not met yet. I'm writing to ask them to change our plans and meet a little while later.
Here's the thing.
I have a dog, Janet, and she's been ill for about 2 years now, as a tumor has been idling in her chest, growing ever so slowly. She's almost 14 years old now. I got her when she was 4 months old. I was 21 then — an adult, officially — and she was my kid.
She is a pitbull, and was found in Echo Park, with a rope around her neck, and bites all over her ears and face.
She was the one the dogfighters use to puff up the confidence of the contenders.
She's almost 14 and I've never seen her start a fight, or bite, or even growl, so I can understand why they chose her for that awful role. She's a pacifist.
Continue reading →