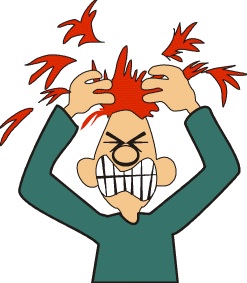 "How could she do something like this to me?" said a voice in my head. All the time. Every day.
Back in 2011, when everything had gradients, iOS icons made sense, and people used deodorants, I was stuck in middle of a pretty bad depression due to my divorce.
Thankfully, I think I was smart enough (and had great people around me) so I found ways to stay afloat. One day I walk into the office, and my day begins at my computer screen. It was all great, until I saw this message:
Your password has expired. Click 'Change password' to change your password.
I'm breathing heavily. I'm staring at the mouse arrow.I read this dumb message in my mind with angry grandpa voice: The password has expired. At my workplace, the Microsoft Exchange server is configured to ask thousands of employees around the planet to change their passwords. Every 30 days. Here is what's annoying: The server forces us to use at least oneUPPERCASE character, at least one lowercase alphabetic character, at least one symbol and at least one number. Oh, and the whole thing can't be less than 8 characters. And I can't use any of the same passwords I've used in the last 3 months.
I was furious that morning. Tuesday, 9:40 a.m. -It was so hot that my torso was already sweaty even though I just got to work. I was late. I was still wearing my helmet. I think I forgot breakfast. Something tastes like cigarette in my mouth. I need to get stuff done before my 10 a.m. meeting and all I have in front of me is a huge waste of my time.
So there it was… This input field with a pulsating cursor, waiting for me to type a password that I'll have to re-enter for the next 30 days. Many times during the day.
Then, letting all the frustration go, I remembered a tip I heard from my former boss, Rasmus. Somehow he combined to-do lists with passwords, and I thought to use an augmented variation of that.
I'm gonna use a password to change my life.