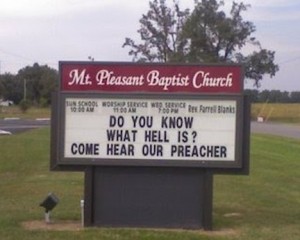 * Don't let worry kill you–let the church help.
* Remember in prayer the many who are sick of our church and community.
* For those of you who have children and don't know it, we have a nursery downstairs.
* Weight Watchers will meet a 7 p.m. at the First Presbyterian Church. Please use large double door at the side entrance.
* Jean will be leading a weight-management series Wednesday nights. She's use the program herself and has been growing like crazy!
* The rosebud on the altar this morning is to announce the birth of David Alan Belzer, the sin of Rev. and Mrs. Julius Belzer.
* This afternoon there will be a meeting in the South and North ends of the church. Children will be baptized at both ends.
* Wednesday the ladies liturgy will meet. Mrs. Johnson will sing "Put me in my little bed" accompanied by the pastor.
Continue reading →