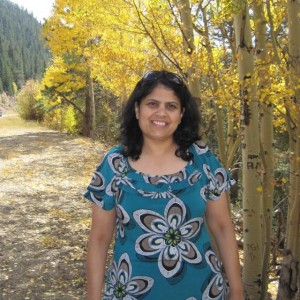 Ketna Shah, a mother, a wife, and a professional had risked her financial security to follow her heart. "I had given up my accounting career and I had jumped into teaching yoga, yet things were not going the way I had expected!" Ketna reminisces as she thinks about her journey into yoga. "I felt that there was a gap between my understanding and my practice and I was not sure what to do next!"
Just a few years back, as a busy working mom and a wife, Ketna had discovered yoga at the local YMCA. She had been suffering from frequent bouts of dizziness from blood pressure fluctuations and yoga provided her with much needed relief. Whereas many people find salvation in an exercise routine, Ketna says that she "tried going to the gym and doing the workouts, but what really helped me was the yoga practice."
At a critical point in Ketna's career, she felt restless and no longer had the desire to continue along an accountant's path. In relating the stimulus for the career change, Ketna recalls, "We had to move to Colorado as part of my husband's relocation. At that point I felt no desire to look for a job as an accountant. My heart was telling me clearly that I needed a change of course. Thank God that I listened to what it was saying!" Once her family was settled in, Ketna decided to pursue yoga full time. She registered for a yoga instructor's course and subsequently became a certified yoga teacher. In very little time, she was teaching yoga but she felt that there was a gap in her knowledge and began to pray for direction.
Very soon she was holding in her hand the book "Yoga for Body, Breath, and Mind". She flipped through the pages and on the inside of the back cover she saw the picture of the authors, A. G. Mohan and Indra Mohan. In that instant she felt an immediate connection. "I felt a tremor of excitement rush up and down my spine!" Ketna recalls. At that moment, even before she had read the book, she knew that she had to go and meet the Mohans and learn yoga from them.
The Mohans did not disappoint her. "I really missed my husband and my daughter during the three month stay in India," Ketna says upon reflecting on her first trip to India to learn yoga with the Mohans. "However, I was extremely happy to be with the Mohans since I was learning so much from them! I learned about the extreme importance of coordinating breath and movement while doing the yoga postures. They also instructed me on viniyasa krama, the art of creating the orderly steps to move safely in and out of postures with proper breath. Ultimately, I understood how to structure a practice so as to make it cohesive and holistic for my students."
Upon completing her study of yoga in India, Ketna felt the transformative impact of yoga first hand and was thoroughly convinced that she had found her Gurus in the Mohans. "My stay with the Mohans was pivotal in terms of my knowledge and understanding of yoga. I have also undergone an inner transformation, as I feel calmer, stronger, and more relaxed. I feel younger and I feel energized, and my spells of dizziness have become a thing of the past," Ketna recalls.
There was no turning back from this point on. Ketna repeatedly visited the Mohans and learned about Ayurveda, Yoga Therapy, and various other topics from them. To supplement her knowledge, Ketna also took up a course on Ayurvedic Nutrition and became a certified Ayurvedic Nutritionist.
Ketna likens the practice of yoga to nature: "The ancient science of yoga is like a tree. It has many branches. Just as the tree grows outward with its many branches pursuing different directions simultaneously, we as students of yoga, must do the same."
"The healthy mind-body is the fruit of the tree of yoga, but it is not the final goal. The final goal of yoga is finding deeper spirituality and oneness, but good health and a calm mind-body are prerequisites. For this reason, the practice of the yoga of postures, the practice of breathing techniques of pranayama, and the recommendations for healthy eating and proper life-style are part of the tree of yoga," Ketna says. She knows that she is making progress along this tree of yoga and it is her mission to help as many people as possible to do the same.